On this page
Top 5 Industries Utilizing Web-to-Print Apps for Product Customization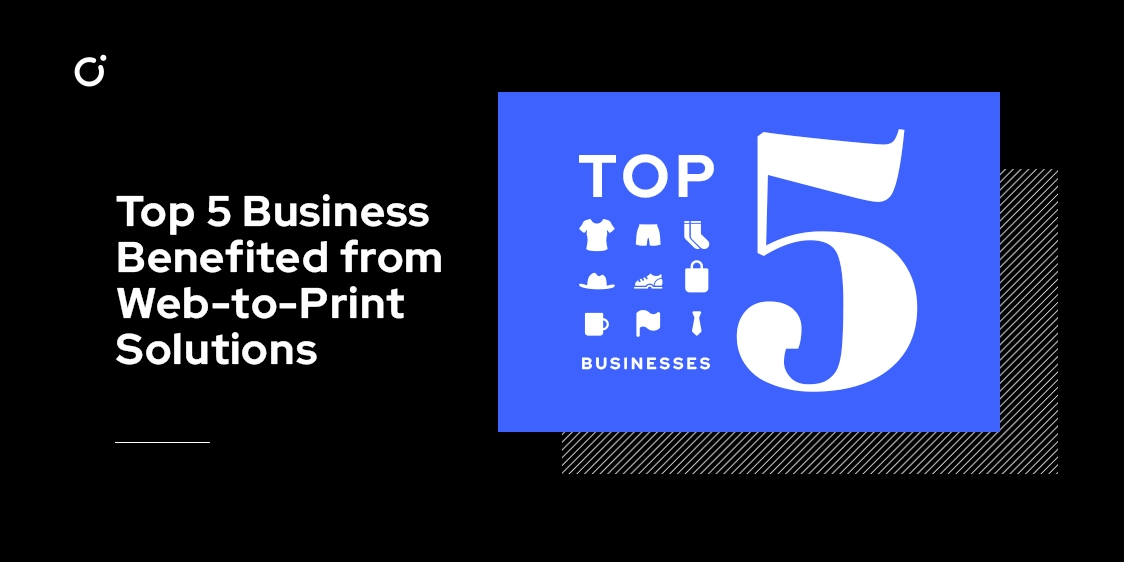 From the realms of fashion and home decor to the corridors of promotional materials and industrial components, web-to-print apps are heralding a new era of customization across industries.
Leveraging state-of-the-art web-to-print technologies, forward-thinking companies are seamlessly integrating these applications into their e-commerce platforms, revolutionizing the way customers design, visualize, and modify products with unparalleled ease and finesse.
So let's explore the top five custom product categories harnessing the power of web-to-print technology the best.
Product fit for Web-to-print technology
When it comes to the web-to-print business, not all products are created equal. Some products lend themselves more naturally to customization through web-to-print apps, while others may present challenges or be less suitable for this kind of approach. Here are some factors that determine whether a product is a good fit for the web-to-print business:
Design Complexity:
Products that have relatively straightforward designs or can be easily broken down into customizable elements are often better suited for web-to-print. For instance, items like t-shirts, mugs, stationery, and posters can be easily customized with individual names, messages, or images using web-to-print apps.
Visual Representation:
Products that can be adequately represented through digital visuals are more compatible with web-to-print. Customers need to be able to visualize how their customization choices will look on the final product. For instance, a custom phone case can be easily previewed and adjusted using a web-to-print app, while it might be more challenging for products with complex 3D shapes.
Manufacturing Feasibility:
Products that can be efficiently manufactured in small quantities or on-demand are more suitable for web-to-print business models. Web-to-print apps are often used to enable personalization in the context of short-run or single-item production. Products that require large-scale or complex manufacturing processes may not align well with the quick turnaround time that web-to-print businesses typically offer.
Consumer Demand:
The level of demand for personalized versions of a product is a critical factor. If there is a strong desire among consumers to customize a particular item, it makes it more appealing for the web-to-print business model. Products that hold sentimental value or serve as gifts often have a higher demand for customization.
Printable Surface Area:
Products with a suitable printable surface area offer more opportunities for customization. Items like apparel, stationery, tote bags, and phone cases provide ample space for creative designs, making them well-suited for web-to-print customization.
Data Handling and Integration:
Certain products may require more sophisticated data handling and integration with the web-to-print app. For instance, personalized invitations with variable data (names, dates, locations) or customized maps might need a more advanced web-to-print solution that can handle dynamic inputs.
Profit Margins:
The cost-effectiveness of the web-to-print process plays a role in product selection. Products with higher profit margins can better accommodate the additional costs associated with customization and still offer reasonable pricing to customers.
Top 5 Industries Utilizing Web-to-Print Apps
Apparel and fashion Industry:
The apparel and fashion industry is an ideal fit for web-to-print apps and product customization due to its inherent demand for personalized clothing and accessories. Consumers seek unique and expressive garments that reflect their individuality and style.
Products: From statement t-shirts, hoodies, and hats to personalized bags, shoes, and jewelry.
Web-to-print apps in this industry offer user-friendly design interfaces, allowing customers to upload their artwork or choose from a library of pre-designed elements. One of the most useful parts of web-to-print technology in this industry is the ease of use of the product design tool. As most clients in this industry don't have the skill or design knowledge the tool plays a vital role in leading the user to a satisfied result.
Endless customization options, allow customers to choose colors, patterns, graphics, photos, and even add their own designs. Together enable consumers to create unique fashion pieces that reflect their personalities and tastes. The apps integrate with advanced printing technologies to ensure high-quality output on various fabric types.
2. Branded /Promotional Products Industry:
The branded products or merch industry caters to events, conferences, concerts, and businesses seeking merchandise to promote their brand or create a unique identity. Web-to-print apps are essential in this category to facilitate the creation of custom merchandise that aligns precisely with the brand's vision.
Products: T-shirts, hoodies, drinkware - mugs, thermos, pens, notebooks, stickers, USB drives, umbrellas, keychains and etc.
For these products, the most important customization elements include logo placement options, extensive design libraries, typography options, and color palettes to ensure brand consistency. Realistic product visualization allows clients to review the merchandise design before placing bulk orders, minimizing potential errors.
Consumers, particularly event attendees, and volunteers, value merchandise that represents the event's branding, creating a sense of unity and connection. Web-to-print apps enable easy customization, providing a competitive advantage by enhancing the overall customer experience. Brands that offer efficient customization processes and realistic previews foster customer loyalty and boost sales.
3. Signage and Display Industry:
In this industry, customization plays a vital role in catching the attention of target audiences. Tailored signage and displays with compelling visuals and messaging draw people's interest and drive engagement. Web-to-print apps streamline the customization process, enabling businesses to respond swiftly to changing promotional needs and optimize their marketing strategies.
The key benefit is that customization tools significantly reduced the time and effort required in the design and ordering process, leading to increased customer satisfaction and faster turnaround times. They support multiple print formats and materials, ensuring the accurate reproduction of designs on different surfaces.
Products: outdoor signs, banners, brochures, posters, even tents, flags, and full trade show displays.
This industry especially benefits from 3D preview features, to see how their final products will look in seconds, before placing an order.
4. Home Décor and Interior Design Industry:
Web-to-print apps have also made a significant impact on the home décor and interior design industry. Consumers increasingly appreciate the value of personalized interior decor, as it elevates the ambiance and comfort of their homes. Web-to-print apps simplify the design process, offering customers an immersive experience and inspiring confidence in their purchase decisions. By providing easy customization and rendering capabilities, businesses can differentiate themselves in a competitive market and gain a loyal customer base.
Products: various home decor items, including wallpaper, canvas, custom posters, photo frames, and even furniture.
Web-to-print platforms in this industry offer 3D visualization, allowing customers to view their customized furniture in a virtual room setting. They provide options for material selection, finishes, colors, and styles, catering to diverse customer preferences. The idea that you can actually create a fully personalized interior yourself is becoming a reality.
5. Printing and Packaging Industry:
With the rise of e-commerce and product branding, businesses are increasingly investing in customized packaging to create a memorable unboxing experience for customers. From gift bags, and boxes to even the paper in the box and a specific perfume a personalized unboxing experience has become a must. Fortunately, using web-to-print apps custom packaging providers can meet the growing demand for custom-designed packaging solutions.
Products: Gift bags, custom mailer boxes, shipping tape, tissue paper, labels, ribbons and etc.
Customization solutions in this industry offer pre-designed templates for packaging types, as well as the ability to upload custom artwork. They support accurate measurements and print-ready files to ensure precise packaging production. Another huge benefit is that it allows printing businesses to also take orders of smaller quantities, minimizing waste and reducing costs. This approach aligns with the shift towards sustainability and personalized consumer interactions, driving brand loyalty and word-of-mouth referrals.
Benefits of using W2P apps for product customization:
Convenience: W2P apps allow users to create and order custom printed products online, which is much more convenient than traditional methods of product customization.

Cost-effectiveness: W2P apps can be a cost-effective way to create custom-printed products, as they allow users to print in small quantities.

Print Workflow Automation: Those who have implemented W2P solutions to their e-shops, would never go back to manual check and review of each step of the process.

Self-service: as consumers are getting impatient, a frictionless order process is gaining more and more importance. W2P apps allow customers to skip any direct contact with a designer or a consultant and just place the order in a number of clicks.

Inventory storage control: since W2P apps should be synced to your e-shop, it will automatically check the inventory storage and if the product is still available.

Removes human error: Eliminating the need for many in-house designers for you and your clients. W2P apps have everything set to ensure the print is according to your printing standards, including automated error messages to communicate that customer design has flaws.

Decreaser return rates: This is one of the biggest benefits as you'll be able to shape the right expectations for the product and have fewer unsatisfied customers.
Final thoughts
As not all product are equally suited for product customization apps and this transformative approach it is always interesting to analyse the perfect fit ones and the reasons why. I hope this article will inspire those who want to start a custom print product business, but don't know which product to choose. And for those who already run business in these industries - I hope you make use of such product customization technology in your everyday operations.
By venturing into the world of web-to-print, businesses can forge stronger connections with their customers, elevate their offerings, and stand out in a fiercely competitive market. The future of commerce lies in personalized experiences, and the custom print business holds the key to unlocking this boundless potential.
Author: Gintė Vėžauskaitė
Tags