On this page
Web to Print Guide 2023
If you sell or plan to sell custom printed accessories or promotional products, you've probably heard the terms "web-to-print," "web2print," or "web-to-print store" at least once by now.
Web to print companies allow customers to become designers themselves and automate the whole order processing with what looks like a simple technology.
Many ask how to implement such a solution for ones business and if its actually as beneficial as they say.
In this article, I'll try to cover all the popular questions related to Web to Print, what it is and how to make it work for your business.
What is Web - to - print?
By definition - web-to-print - also known as Web2Print (W2P), remote publishing or print e-commerce is commercial printing using web sites. Partners and customers may submit print jobs, do online pre-press reviews/previews, design things like postcards directly on a website using rich user interfaces, direct cross-media marketing and offer services such as variable data printing, photo printing, booklets, and marketing campaigns.(Wikipedia)
In simple terms - web to print enables customers to create custom product design on a web based solution in website, then generates a print ready file and order is sent straight to printing without the need of any third party help.
It requires an ecommerce store, product customization tool, and printing service provider or your own printing machines. Design print file is created on the website itself so you don't need photoshop or other tools.
The most common products sold using web to print solutions are custom t-shirt, paper cups, wedding invitations, all merchandise and similar. A customer can see how their final product will look and place a personalized order. After that, partners are responsible for the printing part and sending it to the customers address.
Web to print services may vary, but such a model can help you focus on smooth business transactions while the technology takes the order processing burden off your shoulders.
At first, it may look like web to print solutions could only be focused for b2c market, b2b businesses also have a lot of opportunities hidden in this business model.
Web to print vs Print on demand
Even though web to print and POD are completely different terms, some find it hard to explain the difference.
When web to print is mainly about business technology, print on demand is rather a business strategy. So let's clearly define both:
Print on demand business model works on the simple defining principle of print after ordering. A consumer places an order, pays the price and only then the product is produced.
A traditional company tries to estimate the demand of the product and stock up for that amount. Naturally, at the end of the quarter they count losses if they don't manage to sell all planned units. A print on demand model in this case helps to avoid waste and save on expenses.
Now about web to print. As we mentioned before, web to print is a term defining the technology that helps to execute such business models. The use of print order software that enables customers to create a product design online, see a realistic visualization and place an order for such a custom product instantly.
There's no need for a designer or any third party interference up to the point where you as a company get print ready files and fulfill the custom product.
Advantages of Web to Print Workflow
When companies decide to leverage Web-to-Print service technology, they are investing in consistency, optimized personalization experience, lowering return rates and an increase in revenue.
You can start feeling the benefits almost right away. Web to Print technology lets you set up various templates that help establish brand consistency. Many customers like to start their product personalization from design templates and when used repeatedly your custom products get the consistent look and feel which sets you apart in the market.
Cost reduction is another important benefit of the Web to Print workflow.
That works by reduction of overall administrative costs, eliminating the potential printing or shipping errors and eliminating the need of a constant designer service. Also, web to print product visualization helps in managing customer expectations - as customers can see how the final product will look like. That way a very clear benefit becomes lower return rates.
Time saving / Fast order processing Consumers can order prints on demand without having to check inventory for their current print needs. Since the technology is fully public, eligible customers can use this service to save all the time involved in the printing process.
The general nature of web-to-print services relies on rapid decision-making processes. Of all the important benefits of web-to-print technology to consider, time management comes first. What would normally take days can now be completed in minutes.
That way letting printing companies offer quality products at fair prices.
Web to print statistics
According to Expert Market research the global web-to-print (W2P) market valued at USD 29.58 billion in 2021 and is anticipated to grow at a CAGR of 5.2% during 2022-2027 to reach USD 39.99 billion by 2027.
The market is driven by increasing demand for customized and personalized print-on-demand products and the integration of print management capabilities to improve efficiency and productivity. The study by Deloitte states that more than 50% of consumers showed interest in purchasing personalized products for themselves and their friends and family.
70% of print service providers within the U.S. have already invested in a fully functional e-commerce system.
Almost 90% of online businesses already invest in personalization, as 80% of consumers are more likely to make a purchase from a brand that provides personalized experiences. (Epsilon)
The growth rate of the Global Market for Web-To-Print is 6.2%, with an estimated value of $1500.0 Million by 2027.
According to a survey conducted by Shopify showed that in 2022, 42% of brands* plan to offer their customers personalized product recommendations through tools like quizzes, custom mobile apps, and first-party or third-party behavioral data.
How to choose a web to print software?
So the key components of your web to print business are the customization tool on your website and automation of the order process. This means that the designs are generated as print ready files in the necessary format for the printing stage.
So whether you plan to install a Web to print app or plugin, these are the key features / functions to look for:
A user friendly design editor. This means fast loading time, UI that's easy to understand letting users enjoy the customization process instead of worry if they did everything right.

Supports 2D / 3D product formats. After all the world is turning to selling realistic customer experience and eliminating the discrepancy between your expectations and the product that you get, 3D product preview is becoming more and more important.

Real time preview functionality. And obvious one, but your tool has to generate a full look of the product with your new design. The main idea behind this is that your customer would be able to see how his/hers final product will look like, prior to purchase.

Color mode options: different printers have different color palettes and requirement. A good tool will have the possibility to choose the color settings for the final print file. Look for 3 main ones : RGB, CMYK, Pantone

All main output file formats. The tool must be able to generate more than one print format to meet the requirements of many users. You should be able to choose from several output/print file formats that will be included in the final .zip file. A few must haves: PDF, SVG, PNG, JPG

Supports multiple print areas. If you want to print on t-shirt, your customers need an option to customize both sides right? So look for multiple print area feature in your web to print application.

Product templates. Can make your first customizable product setup 100 times faster and easier.

Design templates - at first you're going to think that when creating a personalized t-shirt or cup, users will want to create a completely new design from scratch, however, our experience shows that is not the case. 80% of users check out the templates if there's such a possibility.
Not many people have the skills to create a good design, even more so evaluate such details as readability, scale, dynamics, composition and etc. Every web to print tool that offers design templates that you could use gets and extra 10 points.
Web to print examples
Web to print technology can be applied to many custom products. Here are web to print shop examples with online product customizers. Get inspired for adding personalization to products you'd have never thought about!
CustomInk | Customizbale merch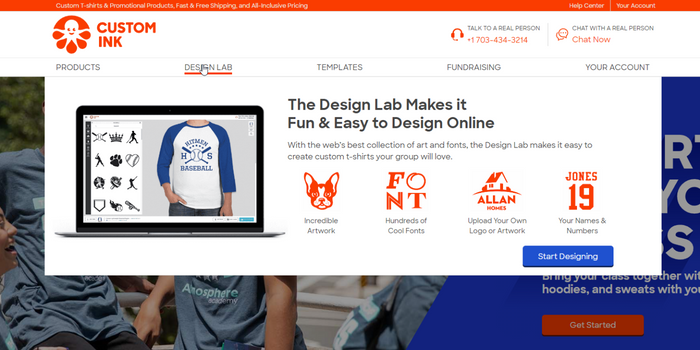 A popular Web to Print Industry with many different products to customize. From t-shirt, hoodies, company stickers and pens to backpacks and drink bottles.
Shutterfly | Photography related products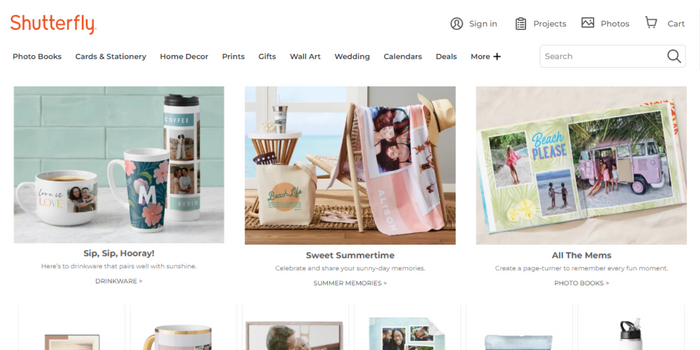 Products with real photographs are lovely for gifts or a DIY decoration letting customers save precious memories. Shutterfly lets customers add photos on drinkware, t-shirts, canvas, towels, phone cases and many other cute accessories.
Minted Weddings | Customizable Wedding invitations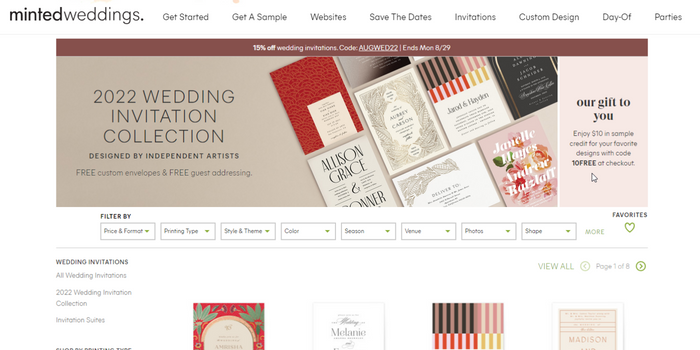 Wedding invitation customizers are growing in popularity as it's a budget friendly solution for creating beautiful personalized wedding attributes. Minted Weddings provide various design templates so couples could enjoy the fast and fun creation process.
BoldCup | Customizable paper cups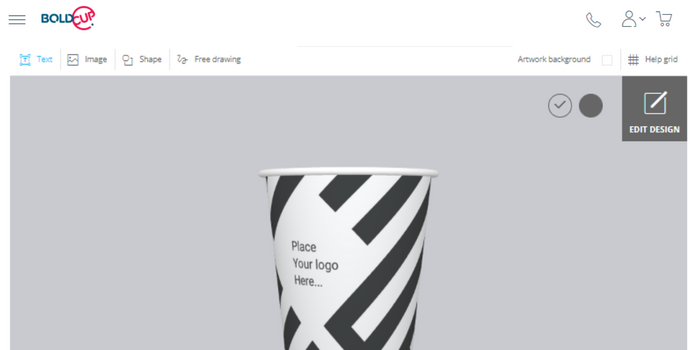 As we mentioned before, Web to Print solutions can work for both: b2c and b2b solutions. Bold Cups is an example of B2B product customizer. Companies can customize and order personalized cups with logo or more detailed designs faster.
iDGaming | Custom mouse pads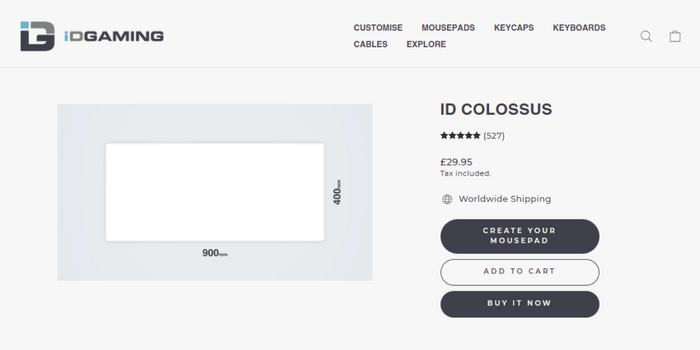 A custom mouse pad is something that anyone would find a very nice accessory, even if you're not a gamer. IDGaming makes it easy to customize and get one!
Gumshields |Custom mouth-guards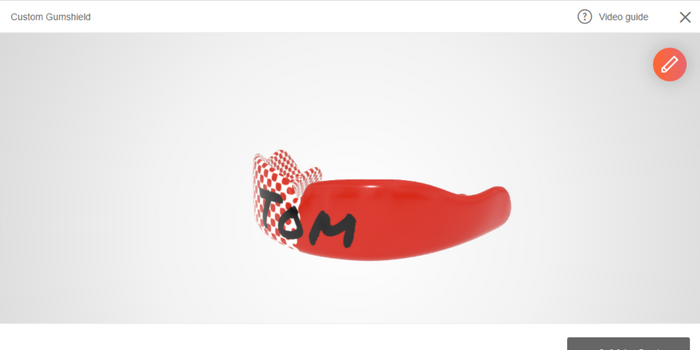 A more unusual product you would think, but hey, it can be the perfect statement piece to show character and boost self confidence for those who use them. Check out how easy it is to place an order.
Web to print Solutions Shopify
Web to print for Shopify stores can be implemented using applications. Go to Shopify app store and input [Web to print ] into the search bar. Find apps that allow customization on your store, can offer design templates for easier kick off, let's you easily handle orders and can sinc to cart so there wouldn't be any manual work in the ordering process.
A few good web to print apps for Shopify stores
Customily
Zakeke
Productimize
Takeaways
Web to print is a business technology, that can take care of your custom product order processing without other third party tools.
It's a great solution to save time and money in your printing business.
Invest time in tool choice, look for intuitive editor and print file generation quality.
Start small - don't aim to make all your products customizable at once. Add customization to one Shopify product, test it out and build up your library bit by bit, you have time.
Analyze your competitors and do it better!
Tags
You can add a conetnt on the right side bar.