Simple Product Onboarding
Product customizer app for Shopify provides a list of free 2D and 3D ready-to-use product templates like ceramic mugs, canvas, T-shirts, shopping bags, cushions, and much more. All product templates can be installed and assigned to your store products just in a couple of clicks!

Ready-to-use Print Files
Forget manual design editing. All design files created by your customers will be automatically generated into the chosen output file format: PDF, SVG, or PNG. The selected output files will be saved, zipped, and sent directly to your email once the order is placed. Moreover, you will be able to choose whether you want to send a copy of the generated print file to your customer or not.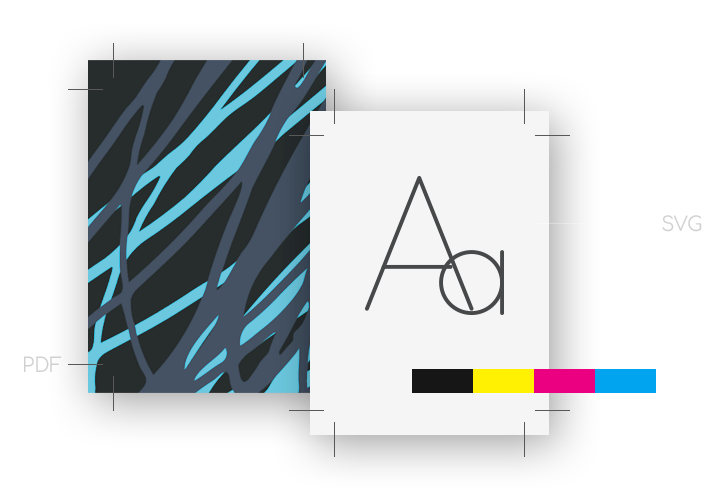 Custom Design Templates
Smart Customizer has prepared a bunch of ready-to-use design templates for your quick start. It helps to simplify the product customization process for your customers and improves add-to-cart rates. You can also create your own templates by uploading your own graphic assets in PDF, SVG, PNG, or JPG file formats or choosing graphics from our library.
Custom Preferences
Create different types of tool sets for your custom products! We perfectly understand the uniqueness of every web to print product, therefore, some toolset preferences will come in hand for you. Allow customers to upload vector or raster graphics, use predefined colors only, add an imprint layer, and much more!
High-Quality Product Preview
Show the best of your product! Create a sleek and seamless web to print product preview by setting up different rotation angles and zooms for your 3D product templates. Help your customers to experience the closest end-product result and guide them to the purchase more easily.
Flawless UX/UI on any Device
In order to meet the increased mobile and other device usage demand, Smart Customizer makes responsiveness a priority for flawless user experience creation. Enjoy our app fully on desktop, mobile, or any other device!