Adidas shoes customizer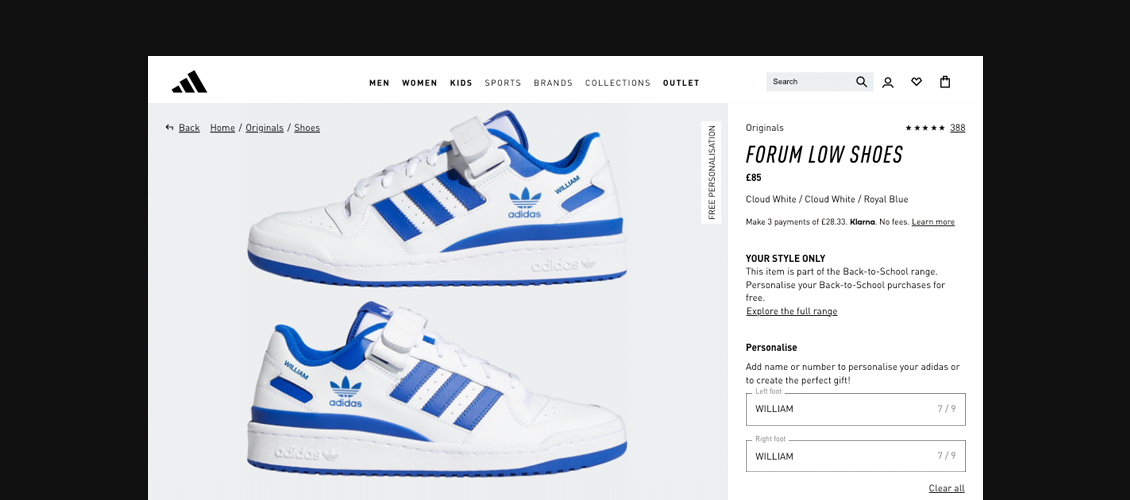 The ADIDAS customizer allows customers to create their own shoes. They can choose the colour and the outsole. Customers can also write on the shoes, put on their country's flag and, of course, select their size. This example might be considered as one of the best practices in apparel product customization industry.
Features
PRODUCT VISUALIZATION - customizer has incredible 3D graphics of shoes. Users can watch how product change of the selected product component.
PRICE CALCULATION - customers can see product price dependence of the selected component.
ORDERING - adidas customizer platform is full cycle of CPQ from product customization to product ordering.
---
ADIDAS is one of the largest sportswear manufacturers in the world and has a broad spectrum of configurable products. Customers can choose product colors, enter texts, import custom images, and much more.
Individualized products, especially apparel, became popular already in the 1950's and today, custom apparel is on a completely other level. It's not only considered as a way of expressing creativity, but also a symbol, history, identity, charm.
Adidas configurator was first widely known in the apparel and footwear industry but the popularity has also grown with other Adidas configurators such as Mi Adidas, Adidas Cheer configurator, Adidas uniforms and Adidas Wrestling configurator.
Mi Adidas configurator
Mi Adidas configurator empowers customers to create custom football kits that add up from jerseys and shorts. Customers can create an outstanding look by choosing a custom color of a product, textile pattern, number of stripes, and logos.
Cheer online configurator
Adidas gives exclusive attention to cheerleader outfits. There is a whole cheer line of customizable clothing for both men and women. It is possible to customize Adidas liners, shells, and tops by adding a personal touch with a custom base and braid colors. There is also an option to customize other embellishments with custom font color and style.
Uniforms Adidas configurator
Adidas also provides a customization possibility for various sports clothing. Customers can choose from Adidas basketball, football, training, soccer, ice hockey, baseball, esports, softball, and lots of other sports clothing options for customization. All products of Adidas uniform configurator have predefined customization areas, colors, and fields for custom text entering.
Custom team gear configurator
Wrestlers can also configure their sports outfits with an Adidas wrestling configurator. It is possible to customize shirts, shorts, hoodies, jackets, singlets, two-piece uniforms, and robes by choosing custom base colors, as well as,texts and images.