On this page
Personalization in E-commerce: What Is It and How To Create It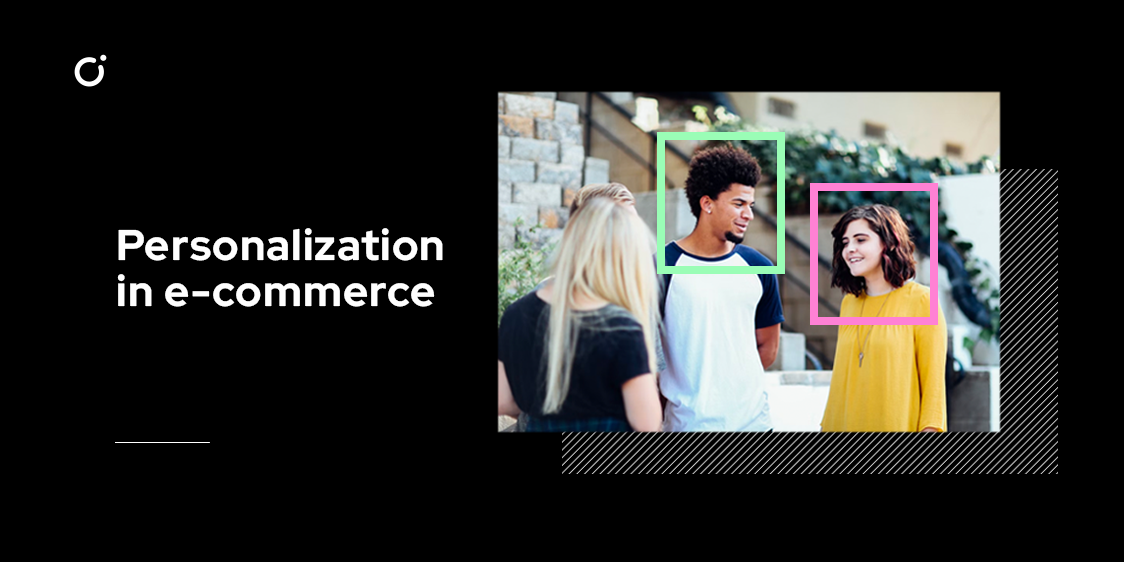 Even though the growing numbers of e-commerce industry create the impression of an overcrowded market, I would like to kick off with a fact that surprised me - It is estimated that there are 12 million – 24 million eCommerce sites across the entire globe (that's huge!), but can you believe that only less than 1M actually sells more than $1000/year? So e-commerce still holds a lot of potential as a business type.
Let's think about what makes customers return to online sales giants like Amazon and mass-market retailers like Walmart. Broad product selection and lower prices certainly help. But as enticing as these features can be, they're often not enough to stop customers from checking out the competition, and winning the online shop game.
Personalized shopping experiences become the real differentiators as more and more shops are created, and when done well, customers respond. Research shows that 88% of online shoppers are more likely to keep shopping on websites with personalized experiences. That said, the scope of personalization can be tricky for companies to define precisely and execute. Let's explore what e-commerce personalization is and how to do it.
The Ins and Outs of E-commerce Personalization
You're probably already familiar with a few e-commerce personalization tactics used by online stores, but let's look at the definition first.
E-commerce personalization is a practice of creating an individual experience for your customer, on your e-shop. That combines suggesting things based on their taste, location, their browsing routine and creating an emotion, that your shop is built FOR THEM.
The basics include the customer's name in an email subject line for transactional messages, while more sophisticated methods involve showing product recommendations based on their past purchases. This is one of the key features that makes some e-shops a "favorite place to shop online" as the more one user browses your store, the more you know their preferences and suggest products that should fit their style, so it seems "wow, I want everything from this shop".
A simple example we could look at is a VPN service. The company analyzes the data and provides personalized tips and suggestions based on whether the VPN is used to stream TV shows, access geo-locked content, or just to secure one's activity online. Once someone gets close to the limits of a free plan, the provider can suggest custom upgrades and add-ons that optimize the person's experience.
However, companies don't have to stop with personalization at the consumer level. The data collected through various cookies can be used to customize landing page designs, words, and even products. Allowing customers to create their own products!
So the next level of personalization in e-commerce is the actual product personalization. Enable customers to buy customizer products with their initials, favorite quotes, important dates, or even unique shapes, colors and textures.
How to add personalization to your online store?
Implementing e-commerce personalization can be quite a challenge because companies often need the right technology. About 53% of digital experience delivery pros say they don't have the technology they need to provide personalization. This is why it can be so critical for online retailers and sellers to work with tech, SaaS, and digital marketing partners.
Relationships with e-commerce tech and digital marketing experts, as well as always keeping up with new solutions and software, can make or break the success of personalization efforts.
Where to begin?
1. Collect and analyze data about your store visitors
The first step to ecommerce personalization is accessing your consumer data. You need to understand different types of customers, create your buyer personas, and understand what they need. Research and data collection make this possible.
Where to look: Your web analytics: whether you use google analytics, or some other trackers, check their reports and try to understand the online behavior of your store visitors, preferred products, and more.
Email Marketing Software: most shops send newsletters with special offers, discounts and popular products. Check which customers are opening and interacting with your emails. You can also find which information layout works the best for your audience.
Historical sales data: This will help you fill the gaps about customer preferences and provide better recommendations in the future.
Chat widgets: check what are visitors asking for the most? If the questions repeat themselves it's a clear signal for a possible improvement area.
2. Evaluate your resources and key conversion points.
If you're a small to medium size ecommerce shop, it's natural that you won't be able to start all personalization tactics at once. So evaluate what could have the biggest impact on your shop, because just another pop-up saying "don't leave the website yet" is most likely not gonna bring you more sales.
Maybe you need similar product recommendations?
Or enable customers to create their own product design in your shop?
Or maybe it's simply reminding of an unfinished purchase and providing a small personalized discount?
Either way, you must start by analyzing why customers quit browsing your store and when. If you get the chance, ask your customers for feedback, what do they lack, is there a place throughout the customer journey that's not user friendly and similar. You can also look at your competitors. What do they use?
3. Set a budget
Some personalization solutions are more expensive than others. So when you figure out what problem you need to focus on the most, start looking for software or specialists who could help you solve it.
Research no-code tools, use your connections and forums to discuss the possible solutions and what helped others and set a clear budget for your test. As the market is big, you don't need to invent a bike. Check what works for others!
4. Set clear goals
Lastly, manage your expectations. Set the time for how long you're going to test your solution and what results it should bring for you to consider it a worthy investment. Don't go with a simple "let's see how it works" approach or drop it after a month because it didn't raise sales by 200%. Check such metrics as: average time on page, bounce rates, pages/session. The results may show there.
With all that being said, let's look at the known ways to deliver unique online shopping experiences and achieve results. Here are a few of them.
E-commerce personalization tactics that work
Product Customization
Product customization provides online shoppers with the ultimate personalization experience. The ability to create your own product design can be the turning point making customers remember you, recommend your shop to others and come back with bigger orders.
For example, someone can choose what words and designs to put on coffee cups or T-shirts. They can also upload graphics and digital photographs to jazz up tote bags, company swag, and trinkets. In a more complex way there's also a possibility to customize products from different components, see realistic fabric and final product visualizations and remove the doubt of how the product will look in real life. Companies such as Smart Customizer have solutions specially made for e-commerce personalization projects, starting with the concept and configuration process.
Continuous Shopping
Continuous shopping is best for loyal customers, because who doesn't love a well optimized UX? Nonetheless, e-commerce sites might try using the tactic on all who establish logins and browse online stores. If you're familiar with streaming platforms, you already know the idea behind continuous shopping.
When you log in to your favorite service, you often see the shows or movies you watched recently. Maybe you paused an episode or film to finish later. Other times you might start a series, but it's got too many seasons to complete it in one setting.
Online stores can apply the same concept to products. When customers log into the site, they'll see a reel of products they were browsing during their last session. These items weren't left in their carts or abandoned but were clearly things they were interested in. That product reel could contain similar items from the same brand, style, or price range. Continuous shopping provides customers with convenience and reminds them why they're on the site.
User-Generated Content
By and large, consumers tend to trust the opinions of other shoppers, friends, and family over what a company says about its products. Customers also like to see examples of others using products and services, so they can imagine what it will look and feel like.
Even real estate agents often use this technique to sell a home. They invest in staging properties or tell homeowners to leave some personal mementos. Seeing an empty or cluttered home can make it challenging for many buyers to see themselves living in it, but conveying the cozyness of others makes it easier to create an image of a happy family home and an easier sale.
Such personalized e-commerce content gives shoppers insights into how products perform in the real world. This content includes reviews, testimonials, photos, and videos. For example, someone can add pictures of themselves wearing a pair of shoes or pieces of clothing. Other shoppers see how the apparel looks on similar body types instead of professional models who may not resemble their physical features.
Email Messages
Email messages are yet another way to reach customers with individualized content. You can use these messages to motivate inactive clients to come back and try your products again. Discounts on shoppers' previous favorites are a common tactic. But you can get even more personal by featuring new or popular products that match someone's previous purchase or browsing history.
Another e-commerce personalization tactic is sending content snippets and links to how-to videos, blog posts, and webinar invitations. This method can work for B2C and B2B companies offering either products or services. It's especially helpful if your business offers a complex solution or a product that you should demonstrate.
Email automation programs also let you integrate several levels of personalization. These tools allow you to automatically customize the tracking details in the order completion email, include customer names, and offer special deals or discounts based on previous buying behaviors and histories. Overall, automation programs are a relatively cheap and easy way to integrate customer data into your communication and provide personalized experiences for your customers.
The benefits of E-commerce personalization
The benefits of personalized e-commerce is not only about increasing sales. It's a long-term investment allowing you to get to know your online shoppers better.
With all that information you get from these personalization tactics you can:
Adjust your assortment, make it more targeted to your main customer segments
Add touchpoints in places users bounce and improve chances of a successful sale.
Improve brand loyalty as your customers love custom communication, good recommendations and sometimes a reminder of your products in their emails or other remarketing efforts.
Win over competition. Personalized e-commerce tactics will ensure you some wins over competitors that create a standardized process with zero personal touch.
Boost sales. Make customers that were on the verge of converting make the sale. Sometimes all they need is a gentle nudge.
The Future of Personalization in E-commerce
Technologies like artificial intelligence are already a part of personalization in e-commerce. However, tech will likely become even more instrumental to the practice. Companies serve too many customers to manually implement personalization in e-commerce environments. And with 71% of consumers expecting personalization, businesses that don't practice it will leave sales revenue on the table.
Not only do customers expect it, but 76% also become frustrated when personalized options are not available. That means the unique ways companies deliver product suggestions, digital content, and email messages will become more frequent and advanced. Product customizations may become more interactive and facilitate co-creation between consumers and businesses.
This exciting trajectory is bound to open up additional opportunities for companies to understand consumers better and improve customers' experiences. Plus, online shoppers won't feel limited by product availability and corporate-level decisions. Ecommerce, while no longer a novel experience, may transform the way consumers obtain goods and services once again.