On this page
How to Create Customizable Products in Shopify?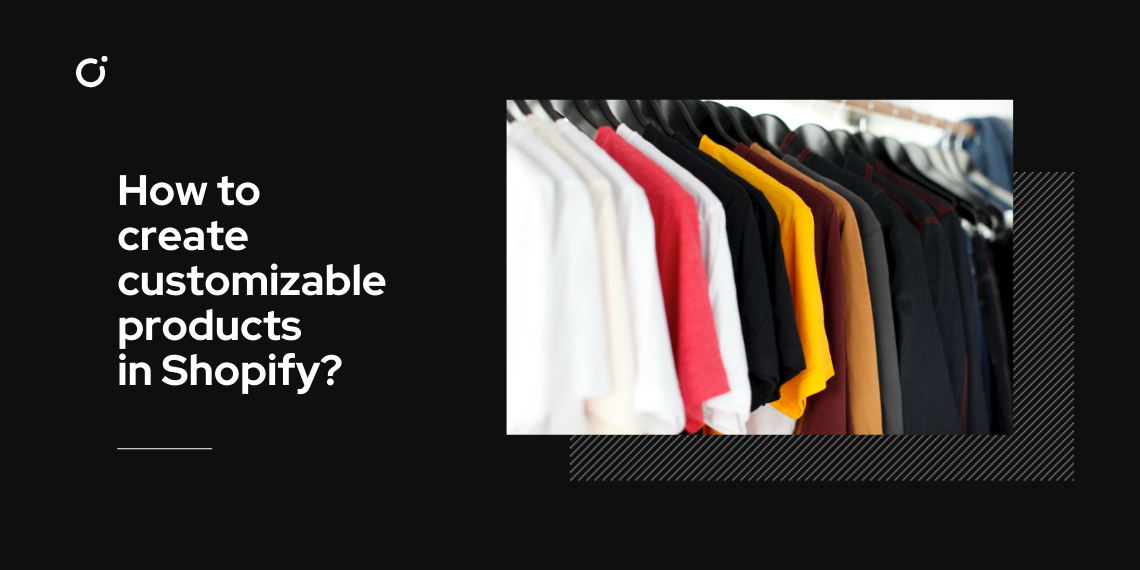 Researchers pay more and more attention to customization and how it's affecting consumer choices. Personalization was even recognized as the marketing word of the year in 2019.
Brands, especially those working in the digital space, are now expected to provide more personalized services as 80% of consumers say they are more likely to do business with a company that offers personalized experiences.
But the shift toward physical product customization is already in progress as well. From customizing occasional t-shirts and caps, we move to bigger things, such as personalized furniture, bikes, baby strollers, and even personalized cosmetics. Customizable products have more meaning and create a feeling of attachment for their owners. That said, looking at it as a short-time trend might be a miss out on a big business opportunity.
Custom Product Visualization
Everyone wants to see what they buy before they make an investment. Without product visualization, you wouldn't know how exactly the personalized product will look in the end. And that increases the doubt in every purchase decision. It's especially relevant to web to print businesses where all the focus lies in product design.
In the age of Amazon and on-demand economies, which seller do you think customers choose more: The one who states they can produce any personalized product or the one that can show how your final product will look prior to placing the order? 9 out of 10 times the winner will be the shop with a product customizer. If you want to provide a top-notch customer experience, product customization on-site is the new normal.
So where to begin when you think about making your products customizable, directly on your Shopify shop?
Best Apps For Creating Customizable Products In Shopify:
Here are a few key players in the Shopify app store which you should try if you want to add online customization to your products.
Smart Customizer
Custom Product Builder
Product Options & Customizer
Kickflip Product Personalizer
Qstomizer ‑ Custom products
Why An App Is A Better Solution For Product Customization On Shopify Than A Custom-Coded Tool?
Lately, there are quite many discussions about how to create customizable products in Shopify without an app, however, in my opinion, there are many clear arguments why it's better to do it with an app:
You don't need any coding knowledge.
Professional customization environment.
Photo-realistic final product preview
Separate content manager
Perfected user interface
Product and design templates
Responsiveness on any device
Automated output file generation synced to the cart
It's like having a whole team working towards a flawless and professional experience for users, except for a very small salary. Can you do that with code? Yes, but you either need a good developer, or you will have to compromise with yourself in many places, such as the interface, syncing with your cart, ensuring the process works, and if you encounter a problem, you will have to solve it yourself. Which is a time-costly thing…Either way, your project budget might surprise you in the end.
So if you want to test the idea of on-site product customization, it's better to just use an app. And who knows, if it pays off you can hire a developer to create an internal system.
How To Make Products Customizable On Your Shopify Store?
So we agreed that the easiest way to add customization to your store is to use an app. If you have never worked with a customization software, you can start your journey with Smart Customizer.
This app has a longer free trial for you to really test out the process and feel comfortable in the later stages. It will also help you automate many processes related to the output print files and administration.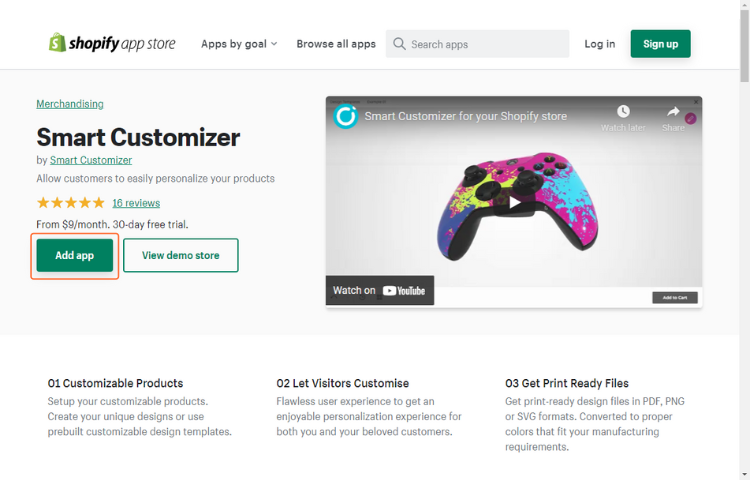 So to begin, go to the Shopify app store and add the Smart Customizer app to your shop. Then open it and start setting up your first customizable product:
Go to Products and click Add New Product
Select to Add customization to your Shopify product and click Start
Select the Shopify product you want to assign customization to and click Add customization
Name your customization using the Title* field (only for internal use)
Upload Model Image which will be used as a base for product's customization (if needed)
Press Save
Once you have your Model Image uploaded, specify your product's scale by:
Opening Print Area Editor
Placing the ruler on a specific part of your Model Image
Entering the length of the ruler using real product measurements
Switch to Print area settings and add Print area dimensions (width, height)
Scroll above to see the print area on Model Image. Drag print area square to the proper position on an image where the print should be placed.
Click on Close icon
Once done, scroll down to the page bottom and press Save
Click View to preview your product online. Click Edit in Shopify to update product details.
Products saved with a visible checkmark enabled will add the Customize Product button to your Shopify product instantly.
Find more information on setting up customizable products from presets and handling your graphic assets in this guide.
Support
If you may have any questions or need help with adding customization to your Shopify shop, contact Smart Customizer support team.
For those who produce customizable products, we offer a custom enterprise solution. For more information, get in touch.
Conclusion
Now you know how to create customizable products in the Shopify store. Enable an in-store experience and improve your conversion rates by letting customers enjoy the customization process.
Author: Gintė Vėžauskaitė
Tags