On this page
Web to print workflow - Implementation and integration of web-to-print solutions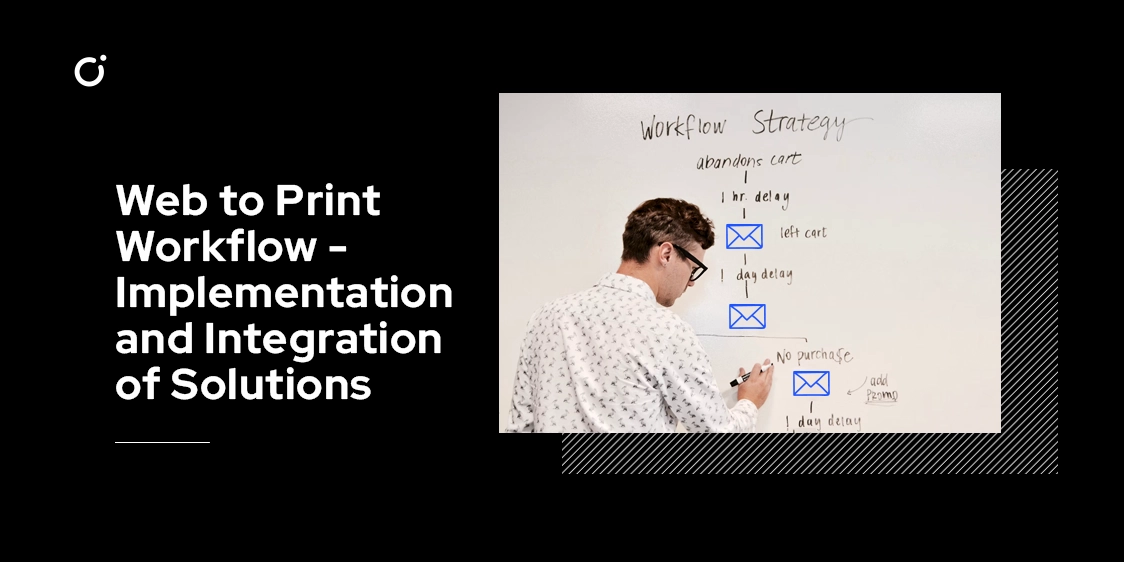 Are you looking to implement a web-to-print solution for your online store? Whether you're just starting out or planning on upgrading print production, it's important to understand the technical requirements and features needed for successful implementation.
This article will provide an overview of web-to-print workflow, from designing a workflow to setting up payment and shipping options. We'll also explore tips for product customization, and automated order fulfillment, and answer common questions about the process. With this knowledge in hand, you'll be well on your way to creating an efficient web-to-print workflow that offers a positive customer experience.
Designing a Web-to-print workflow
Before diving into the process of designing a web-to-print workflow, it's important to identify the needs of both the e-shop and its customers. This helps to ensure that the product design is user-friendly and meets the needs of all parties involved.
When considering software for product design, look for user-friendly tools such as drag-and-drop editors that allow for easy customization. Additionally, features such as image uploads, text editing, and add-ons help create an engaging customer experience. To get started quickly, research prebuilt templates to use as a base for customizing products.
Once you have identified what features are needed for product design, begin researching web-to-print solutions that meet your e-shop's needs. Consider factors such as pricing plans, customization options, scalability requirements, and integration possibilities with existing e-commerce platforms before making your choice. After you have identified the right solution for your business goals, take steps to integrate it into your existing systems and processes for seamless operation across platforms.
By taking time to research options thoroughly and plan out your web-to-print workflow in advance, you will be able to optimize your e-commerce website with an efficient print production process that meets both business goals and customer expectations.
Preparation for integrating web-to-print software into your e-shop
Prior to integrating web-to-print software into an e-shop, preparation is essential for a successful transition and implementation. To begin, it's important to determine the technical requirements for your e-shop in order to effectively use the software. Additionally, research should be done on vendors that can provide compatible solutions based on your company's needs and make sure they meet any extra features you may require such as product customization or automated order fulfillment.
Additionally, costs need to be taken into account when implementing and sustaining a web-to-print workflow. Prices can vary depending on the vendor chosen and the features included. It's also important to consider how payment and shipping options will work with your e-shop platform when integrating the web–to–print software.
Finally, if you plan to offer products requiring printing (e.g., t–shirts or mugs), make sure models are prepared accordingly before uploading them into the system. This includes formatting images correctly (RGB or CMYK) and ensuring they have high enough resolution for printing purposes.
By following these steps prior to integration, businesses can ensure a smoother process while still meeting objectives and providing customers with an enjoyable experience when using their online store services.
Integration with e-commerce platforms
Integrating a web-to-print solution into an existing eCommerce platform is key to the success of any business. It's important for customers to have access to multiple payment options, currencies, and automated order fulfillment capabilities in order for them to have a smooth experience across all devices. For businesses looking to integrate their web-to-print solutions with platforms such as Shopify, Magento, or WooCommerce, it's essential that they select the right vendor who can provide features like product personalization, secure payment gateways, and automated order fulfillment.
When selecting a vendor, scalability should also be taken into account; businesses need to make sure their chosen solution can grow with their needs and offer reliable customer support if any issues arise during setup or operation.
Additionally, ongoing updates and upgrades should be provided by the vendor in order for the software to remain up to date with industry trends and customer demands.
Furthermore, businesses must look at how their web-to-print solutions will interact with other existing technologies such as CRM and ERP systems; this ensures accuracy when transferring data between different platforms used by various departments within an organization which helps streamline operations while increasing efficiency throughout.
By taking these steps prior to the implementation of a web-to-print solution into an eCommerce platform, companies can rest assured knowing that they have taken all necessary measures for success in their workflow system operations while providing customers with an exceptional user experience no matter what device they are using.
Designing user-friendly templates
When designing templates for web-to-print solutions, it is important to keep the user experience in mind. To do this, businesses should consider incorporating features that allow customers to customize their orders with custom fonts, graphics, logos, and more. Additionally, by offering multiple design styles a business can appeal to a wider range of customers which leads to increased sales and higher satisfaction rates.
It is also essential to test the template thoroughly before going live in order to spot any bugs or errors that may arise during the ordering process. Finally, be sure to keep in mind any design limitations such as size constraints and image resolution restrictions when creating your templates as they could lead to an unsatisfactory product or incorrect order fulfillment process if not taken into account.
By following these steps businesses can create user-friendly templates that provide customers with an enjoyable ordering experience that meets both business goals and customer expectations alike.
Managing print workflows
Taking control of print workflows can be a challenging endeavor but is necessary to guarantee success with any web-to-print venture. To start off, companies should create rules for file formats and size requirements that their web-to-print solution will accept. This makes it simpler for customers to upload needed documents since they know exactly what is required. Additionally, businesses can establish automated checks and balances to make sure the output corresponds to customer expectations.
Keeping track of performance is also important when managing print workflows. By examining metrics such as turnaround time, errors in production, and customer satisfaction ratings, businesses can identify which components of their workflow are operating correctly and where improvements need to be made. This helps them refine their processes and lower expenses associated with production.
The last step in managing print workflows is handling any problems that arise during the process. It's critical for businesses to have a designated procedure in place for quickly and efficiently resolving customer complaints or technical issues. This way they can maintain high standards of customer service while still guaranteeing the accuracy of printed output.
By adhering to these best practices for managing web-to-print business, enterprises can ensure their customers have a positive experience on their eCommerce platform and that orders meet specifications each time they're fulfilled.
Setting up payment and shipping options
Creating a successful web-to-print workflow requires careful consideration of payment and shipping options. Understanding the different methods available, integrating them into the workflow, and testing them is essential for providing customers with an optimal experience. By taking the time to research and set up these processes correctly, businesses can provide their customers with a seamless checkout process that meets their needs while also meeting cost savings or other objectives.
Common questions about web-to-print workflow
The implementation of a web-to-print workflow is a powerful tool that can help businesses to increase efficiency, reduce costs, and improve customer service. However, there are several questions businesses should consider before taking the plunge into web-to-print solutions.
First, businesses should ask themselves what their needs are for product customization options. Depending on the industry they're in and the types of products they offer, this could range from adding logos or text to customizing colors or even creating unique designs. Knowing which features will be necessary upfront will ensure that they select a vendor who can provide those capabilities.
Businesses should also consider how easy it is to integrate web-to-print solutions into their existing eCommerce platforms. Some vendors may offer plug-and-play templates while others may require more complex integration. It's important to research the integration processes ahead of time so that any potential problems can be identified and addressed prior to launch.
Finally, companies must ask themselves how they plan to ensure a positive customer experience when using their web-to-print solutions. They should focus on making sure that customers have an intuitive ordering process with clear instructions at every step as well as providing high-quality customer service if issues arise during the order process. Additionally, they should consider setting up automated checks and balances in order to track performance metrics such as turnaround time and accuracy of orders fulfilled.
By considering these questions prior to implementing a web-to-print workflow, businesses can ensure that their solution meets both business goals and customer expectations for a successful venture into digital printing technology.
Author: Gintė Vėžauskaitė
Tags