On this page
How to create design templates for your customizable print shop?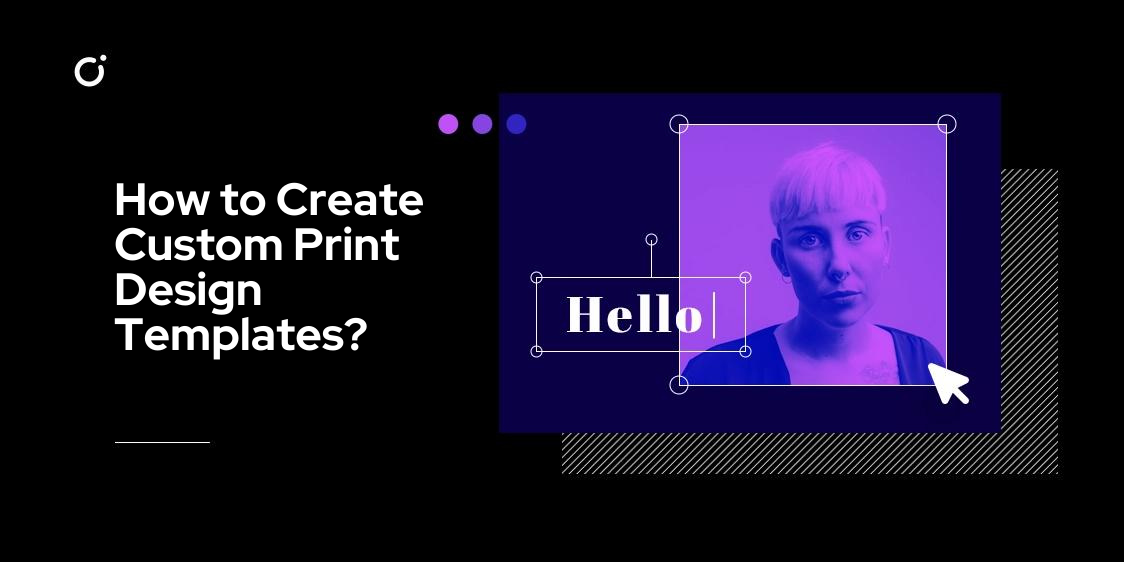 Design templates are an essential part of running a customizable product business. Recognizing that not everyone possesses experience in product customization or feels confident about their design acumen, without these templates, many visitors might abandon e-shops after attempting to craft a personalized design on their own.
In this blog post, we will explore the key elements that you need to consider when designing templates for custom web-to-print products, the tools needed to create them, and tips for testing and deploying them. We will also discuss the ins and outs you should keep in mind when creating a useful print template library. Let's jump right in!
What is a customizable product design template?
Customizable design templates are pre-made designs that can be easily edited to help customers easily create personalized products and ensure great final results, even if they're using the tool for the first time. These types of templates are often used in custom print shops so that customers would not quit the customization process while looking at a blank page and lacking design inspiration.
A basic example would be that you want to order a custom t-shirt for your friend's birthday, and you know the main text you would like to add but have no idea how to make it look good. What colors, fonts, and graphic elements should you use so in the end, you drop the idea and choose a more universal gift... Sad, isn't it?
Designing these templates requires careful consideration of several factors, including variability, customizability, and aesthetics.
How do design templates affect customer experience and customizable print sales?
Print design templates can have a significant impact on customer experience and customizable print sales. When customers are presented with easy-to-use design templates that fit their needs, they are more likely to complete their purchase and be satisfied with the results. Unique design templates also have the ability to communicate the brand's unique style, stand out from competitors, and attract new customers.
By providing the user with a starting point - a design template - for them to build upon, the process gives the user a sense of co-creation. Co-creation refers to the positive emotional and cognitive experiences that arise when individuals engage in joint creative processes with others. It is a sense of satisfaction, enjoyment, and accomplishment that comes from collaborating with others to produce something new or innovative. These feelings create a positive user experience and encourage a return.
The design template is not only a good starting point for user experience but also a guarantee that the final result will be of high quality, as print design templates are usually prepared by professionals.
Essential elements of custom design templates
Creating print design templates for a customizable print shop requires a good understanding of your customer groups and design basics. Starting at the latter, a print template consists of such key elements:
A layout
Color scheme
Font or a combination of fonts
Picture placeholder
Decorative graphic elements
The initial step is to identify what sorts of products you want customers to personalize. This will help you choose your design layout and how many elements it should contain.
After determining this, selecting colors and images that fit with your overall theme can commence.
The hues should be based on brand guidelines or customer preferences; making sure they are consistent throughout each design template is critical. Additionally, images should also be chosen carefully so they fit within your aesthetic and appear attractive.
When constructing a design template, features that enable customers to easily customize their product are essential. This could include text boxes where customers can type in their own words or tools permitting them to upload their own pictures or videos. These characteristics must be intuitive so users don't become overwhelmed when customizing their pieces.
Finally, make sure your design templates are compatible with different printing platforms and media types so customers can get quality prints no matter which platform they use. You can skip this step if you have an online product customization tool. Test out different designs before releasing them publicly to ensure they look great on products someone might use them on!
By making sure all these essential elements are present when crafting design templates for a customizable print shop, you can guarantee that customers have an enjoyable experience customizing their items while also guaranteeing aesthetically pleasing designs every time!
Design templates categorization
For easier navigation and quicker results, design templates are often categorized by themes. For example:
Occasions (such as Birthdays, weddings, Christmas, etc.)
Name Tags
Pets
Plants
Emojis
Education
Family, and so on.
Designs within a category can also be unified not just by theme, but by execution-style:
Patterns
Abstract shapes
Doodles
Retro
Western, and so on.
The question arises: how do choose the right categories? To determine this, it's essential to research your target users. You can create user personas, investigate their interests, and determine what's relevant to them. It's always possible to start with basic themes that appeal to the majority, such as name tags and holidays, among others.
Another crucial aspect is the number of templates for each category. While there's a temptation to showcase as many as possible, it's important to remember that more isn't always better.
The number of design options presented to a customer can significantly influence their satisfaction and decision-making process. Barry Schwartz, in his book "The Paradox of Choice: Why More is Less," underscores the challenges of offering too many choices. He suggests that a range of 3-5 options is often ideal, preventing decision paralysis and enhancing satisfaction.
Design templates for your custom print shop
Designing the right templates for your print shop can be quite a challenge, but with some careful planning and the right tools, it doesn't have to be overwhelming.
To make a design template, you first need to find a professional graphic designer to do it or if you have decided to make it by yourself you need to choose a design software that suits your needs and skill level. Popular options are:
For Pro use:
Illustrator (advanced vector graphics editor)
CorelDRAW (advanced vector graphics editor)
Inkscape (free and open-source vector graphics editor)
For Mid-advanced use:
Canva (web-based graphic design platform)
Using your product customization tool
For example Smart Customizer
To create a design template, you don't need to be proficient with professional tools. Web-to-print online designers like Smart Customizer should also allow you to craft print templates using a curated selection of fonts and a library of graphic elements. Their user-friendly interfaces enable quick and high-quality artwork creation that can be easily transferred.
Now how to make custom designs?
After you decide what print design template categories you need to create, start thinking about key design elements such as layout, graphics, colors, fonts, patterns, and timeless design components. All of these elements must work together harmoniously to provide customers with an aesthetically pleasing design.
After you decide what print design template categories you need to create, start thinking about key design elements such as layout, graphics, colors, fonts, patterns, and timeless design components. All of these elements must work together harmoniously to provide customers with an aesthetically pleasing design.
Identify the elements that can be modified: colors, fonts, images, and layout. To simplify this, create a list of elements that need testing.
To ensure a professional look, the colors used must complement each other. Develop a small palette from which any color combination will look harmonious.
If your template has multiple text elements, limit the font customization options. When users choose from a pre-selected set of fonts, they're more likely to achieve a desirable result.
Swap out long text for short phrases and vice versa. This will help you see if the text always fits well and remains within its designated space.
Ensure that the text alignment matches the intended layout. For instance, if the text should always be centered but is set differently, a short phrase might look fine, but a longer word could disrupt the composition. Always double-check that the alignment is set correctly.
If the layout is designed to incorporate a photo, provide a placeholder or a graphic frame. This way, users can easily replace the placeholder, and the image will appear in the right spot. With a frame, users will know where to place their photos.
Confirm that you've set the design element editing restrictions correctly. If a user should be able to change a name but can't, the design template might be improperly configured.
Check the actual size of the design on the product. While the text size might look good in the design editor, measuring the real size with a ruler might reveal that the design is too big or too small.
Always verify the safe area and bleeds. Overlooking these areas can result in crucial design elements not printing or being printed in the wrong place.
To ensure elements are aligned correctly, utilize a grid.
Making sure these steps are taken can provide customers with a smooth experience customizing their products while also maintaining their privacy - allowing businesses like yours to benefit from increased sales revenue from a successful customizable print shop!
Customization for different types of users
Creating design templates for a customizable print shop should be structured. You have to think about the level of preparation and tech savyness each of them might have. That's why it's recommended to tailor print design templates to 3 different user groups:
1. Newbies
For beginners, or people who don't regularly use a computer or aren't familiar with design preparation, it's better to offer less freedom to modify elements in design templates: For example, it's sufficient to change the name and choose a color from a selected palette instead of a whole color spectrum. In this case, the design will always turn out appealing, the process won't be stressful, and the user will feel satisfied with a good result.
2. Time savers/mid-advanced users
Similar principles apply to the 'Time savers/mid-advanced' user category. Just like beginners, they appreciate streamlined processes and intuitive design templates. While they possess a higher level of expertise and are more comfortable navigating digital platforms, they value efficiency and simplicity. Offering them design templates that strike a balance between customization and ease of use can enhance their overall experience, ensuring they can produce quality designs without unnecessary complications.
3. Advanced users
Only a small portion of users fall into the 'advanced' category: those who both want and have the time to spend extensively crafting a template, exploring design elements, and so on. For such users, it's beneficial to offer a few templates with more options for detailed customization. These individuals often seek a deeper level of engagement with the design process. They appreciate the flexibility to tweak and adjust more components, ensuring their final product aligns perfectly with their vision. Catering to this group means providing a richer set of tools and options, allowing them to dive into the intricacies of design.
Once the design template library is up and running, it's time to create rules for maintaining its usefulness. These include providing tutorials or instructions on how to customize each design template, offering multiple design options that cater to different styles, keeping the user interface simple yet functional, making sure all elements are clearly labeled, and ensuring compatibility with different printing platforms and media types.
Additionally, creating a feedback loop between customers and designers helps ensure that the best possible designs are created efficiently. The feedback loop allows customers to provide their opinions on what works best for them so designers can iterate quickly based on customer feedback as well as test out new ideas without having to invest too much time into research or development.
5 rules for Creating a Useful Print Design Template Library
Having a library of design templates is essential for any customizable print shop. Establishing this library with the following five rules in mind will help create an enjoyable and successful experience for different customers coming to your custom print e-shop.
Style and design variety. As I mentioned before - approach this question with structure in mind. Get into the shoes of each customer persona and think about what kind of design templates would they like. What kind of templates you don't have? It's not about your personal preferences.

Design limitations can make the customization process easier. Lock elements that shouldn't move, and define how your templates can be customized.

Labeling elements within templates is also helpful – buttons, text fields, graphics, colors, fonts, etc., should all be clearly labeled so users know exactly what they're looking at before making changes or adding features.

Test the customization process - ask 5 of your friends to use your templates and go through the whole order flow.

Lastly, it's important to provide tutorials and step-by-step instructions on how to customize each template. This will make the process easier for those without prior knowledge of graphic design or website development, as well as ensure that all features can be used effectively.
Author: Gintė Vėžauskaitė
Tags