On this page
How to sell custom products successfully? 2023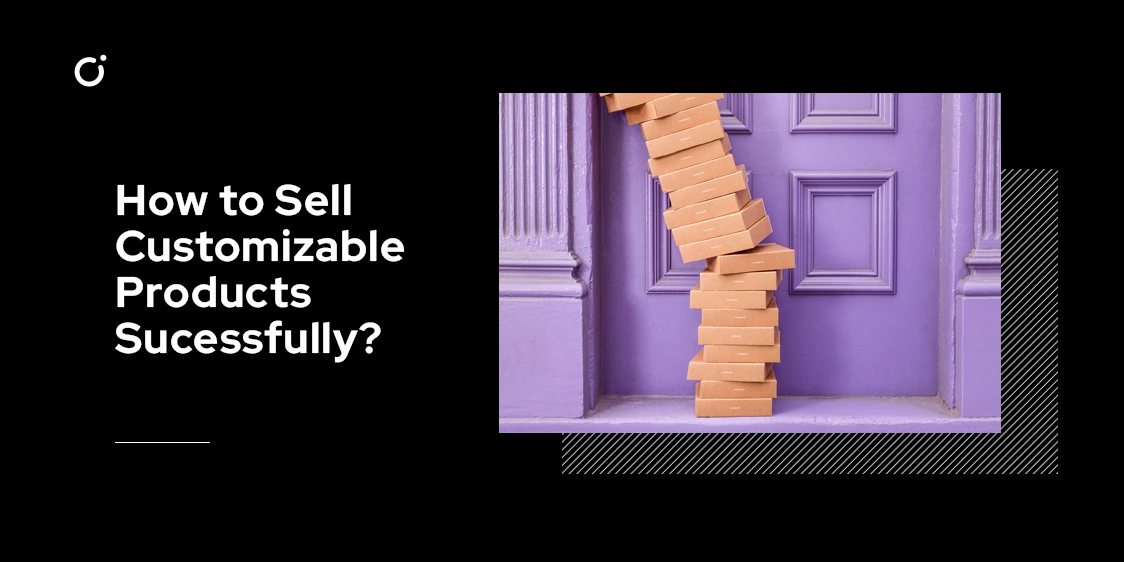 Being able to offer customizable products can be a great way for businesses to stand out from the competition and make their product offerings unique. However, successfully selling customizable products requires more than just having them available.
In this article, I'll provide practical advice about selling customizable products. What information is important, how to showcase your products, how to build trust on your product pages, and how to make your customers come back for more?
Invest time in clear product descriptions
Creating clear product descriptions for customizable products is a must for businesses looking to succeed in sales. To craft effective descriptions, you need to think about the questions that might stop your customer from adding the product to the cart.
A few examples:
Looks nice, but what is it made of?
Is it durable?
Customizable? Will I be able to do it by myself?
Do they offer free shipping? Where are they shipping from?
How fast is the delivery?
Can you return it if necessary?

Elements to include on your product description today:
Materials used
Size & Weight (if important)
What's special about your product - you can even link to a blog post where you explain the ins and outs of why your product is the best option. This is the place where your visitor can be convinced.
Related Products or Accessories - if your product has complementary products, mention it.
Care instructions
You can also provide a short intro to how product customization works.
Additionally, visuals and customer reviews can help customers further understand what they're buying before making their purchase. By investing time in crafting well-written product descriptions, businesses can ensure that potential buyers have all the information they need to make an informed decision about their customized purchase.
Sample Showcase
When selling customizable products, it is important to showcase the final result that can be achieved. How other customers loved it. It will help them create the right expectations and provide them with inspiration for their unique designs.
One way to do this is by featuring popular customization options and combinations. This could include pictures of previous customer orders in a portfolio or on social media to demonstrate the product's potential. For example, if you're selling t-shirts, you can show off different colors and prints that were chosen by previous customers. If you're selling shoes, you can display images of personalized shoe designs that other customers have created.
Another way is to offer multiple customization features in an easy-to-navigate interface so customers can mix and match different options until they find the perfect combination for their needs.
Your sample can also include videos to give potential buyers an idea of how their customizations will look once completed, or a real-time preview of customized products before purchase so they can be sure it meets all their expectations. This will give your business an edge over competitors who don't offer this service because it shows that you care about customer satisfaction more than anything else.
By providing a sample showcase for your customizable products, businesses will be able to maximize the potential of these items and increase sales in no time at all!
Educational Content
Education Content is an important part of selling customizable products. By providing customers with the necessary information and resources to customize their products, businesses can make sure that they are getting the most out of their purchases.
Businesses should start by providing original design templates that customers can use as a starting point for their custom products. This will give them a better sense of what's possible and ensure that they get the best results when customizing their product. Additionally, businesses should provide visual aids such as images and videos to help customers understand how to customize their products.
FAQs are also an essential resource for customizing products. Businesses should include answers to common questions about customization options, production times, costs, etc. so that customers have all the information they need before making a purchase decision. Additionally, businesses need to encourage customers to share their unique experiences with customizable products to spread the word and increase sales potential.
Finally, businesses should strive to create an enjoyable experience when customizing products by providing helpful customer support and efficient production and fulfillment processes. By offering assistance throughout the process, businesses can ensure that all customer needs are met and they maximize the potential of their customizable products.
Customer Support
Customer service is essential for the success of any customizable product. To ensure customer satisfaction, businesses should offer a variety of ways to support customers, such as email, phone, chat, and social media. Moreover, having knowledgeable and friendly staff members is vital in creating a good impression. Additionally, providing updates on the customization progress helps customers feel more involved in their purchases. Allowing customers to make changes even after they have bought their product can also be beneficial if possible.
Creating an FAQ page will help both businesses and customers alike. It allows for quick responses to customer queries and builds trust by ensuring that all pertinent information is readily available before making a purchase decision. Furthermore, it reduces the amount of time spent on customer service issues which gives businesses more time to focus on other aspects of the business.
By delivering exceptional customer service through various means such as live chat or online tutorials, companies can maximize their custom products' potential while creating an enjoyable experience for consumers throughout the buying process. By following these tips businesses are sure to see an increase in satisfied customers leading to increased revenue from customized products.
Efficient Production and Fulfillment
For businesses that sell customizable products, achieving efficient production and fulfillment is key to maximizing potential. To make this process smoother, automation systems can be used to streamline order processing and reduce time spent on manufacturing customized products.
Optimizing shipping methods and carriers can also cut costs and delivery times for customers. Additionally, providing real-time tracking information will keep customers informed of their orders' progress and build trust with the business.
For seamless data transfer between departments, an integrated system that allows for automated sharing of designs with production staff should be employed. Finally, quality control protocols should be implemented to ensure all custom products meet customer expectations before being shipped out for delivery.
By taking these steps businesses can guarantee customer satisfaction upon receiving their order every time they purchase a custom product from them.
Return and Refund Policy
When selling customizable products, it is important to have a clear return and refund policy. This helps customers understand what they can expect when returning an item and creates trust in the business. Here are some key points to consider when creating a return and refund policy for customizable products:
Accepted Returns: Customers should be informed of what types of items can be returned or exchanged, such as incorrect sizes, defective items, or unsatisfactory customizations. Additionally, customers should know whether their customized product cannot be returned once it has been personalized.
Periods: Customers should also be aware of how long they have to return an item to receive a full refund or exchange. It is recommended that businesses give customers at least 30 days' notice before any returns will no longer be accepted.
Payment Methods: When providing refunds for customer returns, businesses should make sure that they inform customers about what payment methods are accepted for refunds. Allowing multiple payment options makes the process easier for both parties involved and reinforces trust in the business.
Restocking Fee: Some businesses may charge a restocking fee on certain returns if applicable. This fee should be clearly defined in the return and refund policy so that customers are aware of any potential fees associated with their purchase before they buy it.
Initiating Returns/Refunds: Finally, businesses should provide detailed instructions on how customers can initiate a return or request a refund if necessary. This could include providing contact information or links to online forms where customers can start the process quickly and easily without having to wait on hold for customer service support.
By making sure that these key elements are included in your policies regarding returns and refunds, you will ensure that your business operates smoothly while keeping your customers happy with their purchases.
Designing user-friendly customization experiences
Creating a user-friendly customization experience is essential for businesses selling customizable products. Customers should feel engaged and confident when customizing their products, and this requires careful consideration of various factors. Here are some tips on how to design a user-friendly customization experience for customers:
Choose the right customization software for your e-shop
The first step in creating a user-friendly customization experience is to choose the [best software for your e-shop](https://www.smartcustomizer.com/blog/best-product-customizer-apps-for-shopify Best product customization apps"). There are many different options available, depending on what type of customization you need to offer. It's important to select a platform that is both easy to use and offers great customer support. Additionally, it should be compatible with multiple devices and have features such as drag & drop interfaces or guided tutorials to make customizing easier.
Provide original design templates for an easy start
Offering pre-made design templates can make it easy for customers to get started with customizing products without having to create something from scratch. This can reduce the time they spend customizing their product and give them more freedom in terms of personalization options. You can also add more template designs over time which allows customers to experiment with different looks while still being able to customize their product quickly and easily.
Providing a clear preview of the customized product before purchase
Giving customers the ability to preview how their customized product will look before they buy it helps eliminate any potential surprises once they receive their order. Customers want assurance that what they're buying looks exactly like what was shown in the preview, so good product visualization that accurately reflect how the finished product will look after customization is definitely a crucial element.
Including an interactive walkthrough for first-time users
For first-time users, having an interactive walkthrough available during the customizing process can be extremely helpful in understanding how everything works and navigating all of the options available. An interactive walkthrough should include detailed instructions as well as visuals on how each step works, making it easier for users who may not be familiar with customizing products online yet.
Ensuring a smooth checkout process that is intuitive and secure
Finally, ensuring a smooth checkout process is essential when offering customizable products online – especially if you want customers to come back again! The checkout process should be intuitive so that customers don't have too much difficulty completing their purchase; adding features such as one-click checkouts or guest checkouts can help streamline this process further. Additionally, make sure your checkout page is secure so that customer data remains safe at all times throughout the entire transaction process
Analyzing customer data to improve customization strategies
By collecting and organizing customer data, businesses can gain valuable insights into the preferences and trends of their customers. This information can be used to create more effective customization strategies by predicting future demand and adjusting pricing accordingly.
The first step in analyzing customer data is to collect feedback from customers on past custom product orders. This feedback should include details on the type of customization options chosen by customers, what they liked or disliked about them, as well as any suggestions for improvement. Businesses should also track metrics such as sales, customer satisfaction scores, and other performance indicators to gain a better understanding of how their current strategies are performing.
With this data in hand, businesses can then start creating customized experiences tailored to their customer's needs and preferences. For example, they may consider offering discounts on certain customizations or introducing new customization options based on customer feedback and trends identified in the data. Additionally, businesses should use this data to develop engaging marketing campaigns that target specific customer segments with relevant offers and promotions.
Finally, businesses should continuously refine their strategies by gathering more customer data over time and using it to identify new patterns and trends to stay ahead of the competition. Additionally, they should track metrics such as sales figures regularly to monitor the success of their strategies and make adjustments where necessary. By taking a proactive approach to analyzing customer data and utilizing it effectively, businesses can ensure that their customization strategies are always up-to-date with the latest trends to maximize conversions from customizable products.
Author: Gintė Vėžauskaitė
Tags