On this page
How to create a 3D shopping experience?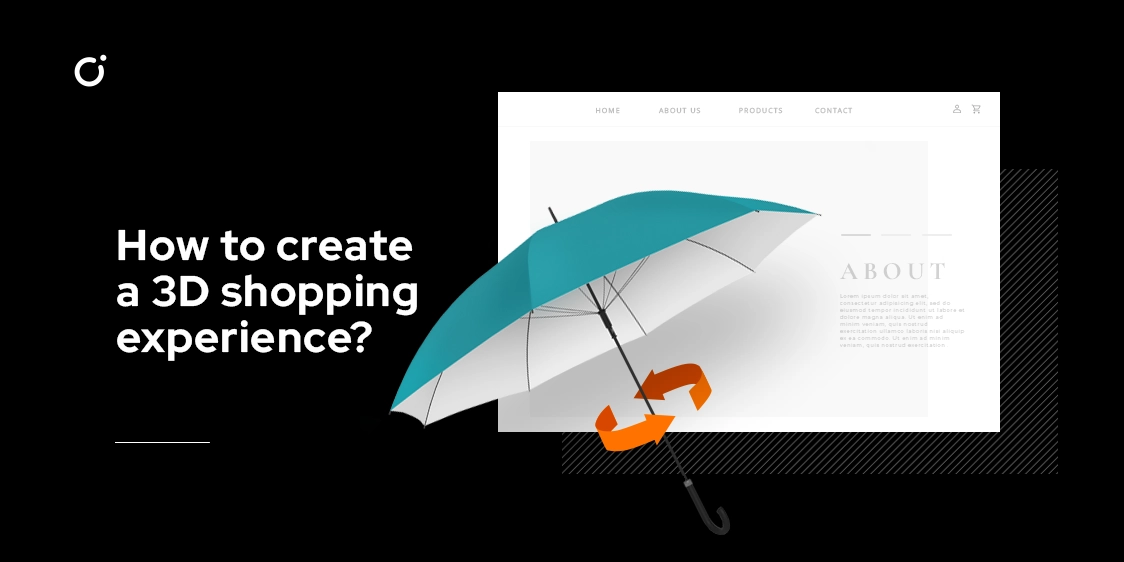 Shopping experience is easy to define in a physical store where customers can touch, feel and inspect the products. However, when it comes to online shopping, creating a good shopping experience can be a challenge.
With the shift towards e-commerce and the rise of online shopping, it's essential to provide customers with an interactive and engaging experience that still brings out the feeling of trust and is able to maintain the level of satisfaction when shopping in a physical store.
Fortunately, 3D shopping has emerged as a game-changer, offering a realistic and immersive experience to online shoppers. 3D shopping has been shown to improve customer engagement, reduce product returns, and ultimately drive more sales.
In this article, I will dive into the benefits of 3D shopping and provide practical tips on where to begin in creating a 3D shopping experience that enhances online sales and customer satisfaction.
What is 3D shopping?
3D shopping or 3D commerce is an interactive experience on an e-commerce website, giving a very realistic 3D product presentation to enhance online sales.
Good quality 3D product models allow customers to see a realistic product scale, fabrics and texture, rotate the items and get a view from different angles, zoom in and out, and etc. This makes physical stores where people can see and touch physical products not a necessity anymore. A study by BCG found that customers who interacted with products in 3D were 65% more likely to make a purchase compared to those who didn't. And that makes sense right? As one of the main customer doubts when shopping online is that the product won't look as good in reality.
In addition to providing a more immersive shopping experience, 3D shopping offers many benefits to brands and businesses. For one, brands without physical shops save a significant amount of expenses and can invest in better product quality and virtual shopping experiences. This can help expand their target audience by creating a unique and accessible online shopping experience for customers, no matter their location.
3D shopping benefits
Key benefits of 3D shopping for sellers include:
Saving costs on rent or physical store expenses.

Allow customers to create realistic product expectations - lowering return rates.

Increasing engagement - users browse through your shop longer due to the interactivity element with each product.

Increase chances of a sale with a realistic product visualization. When customers see products in 3D, they can get a more realistic sense of what they will look like in real life and feel more confident to order.
Taking all these benefits into account, one of the few challenges left is to ensure fast world-wide shipping and the capacity to handle big quantity orders!
Example of a 3D shopping experience
A good example of a developed 3D shopping experience is a 9to5 Seating company case. They produce and sell ergonomic office seating, which can be ordered via visual product configurator on their website. Using 3D chair models, you can design your own chair - pick the fabrics, base or "legs", and other customizable components and instantly see the 3D visualization of how they all fit together for the final product.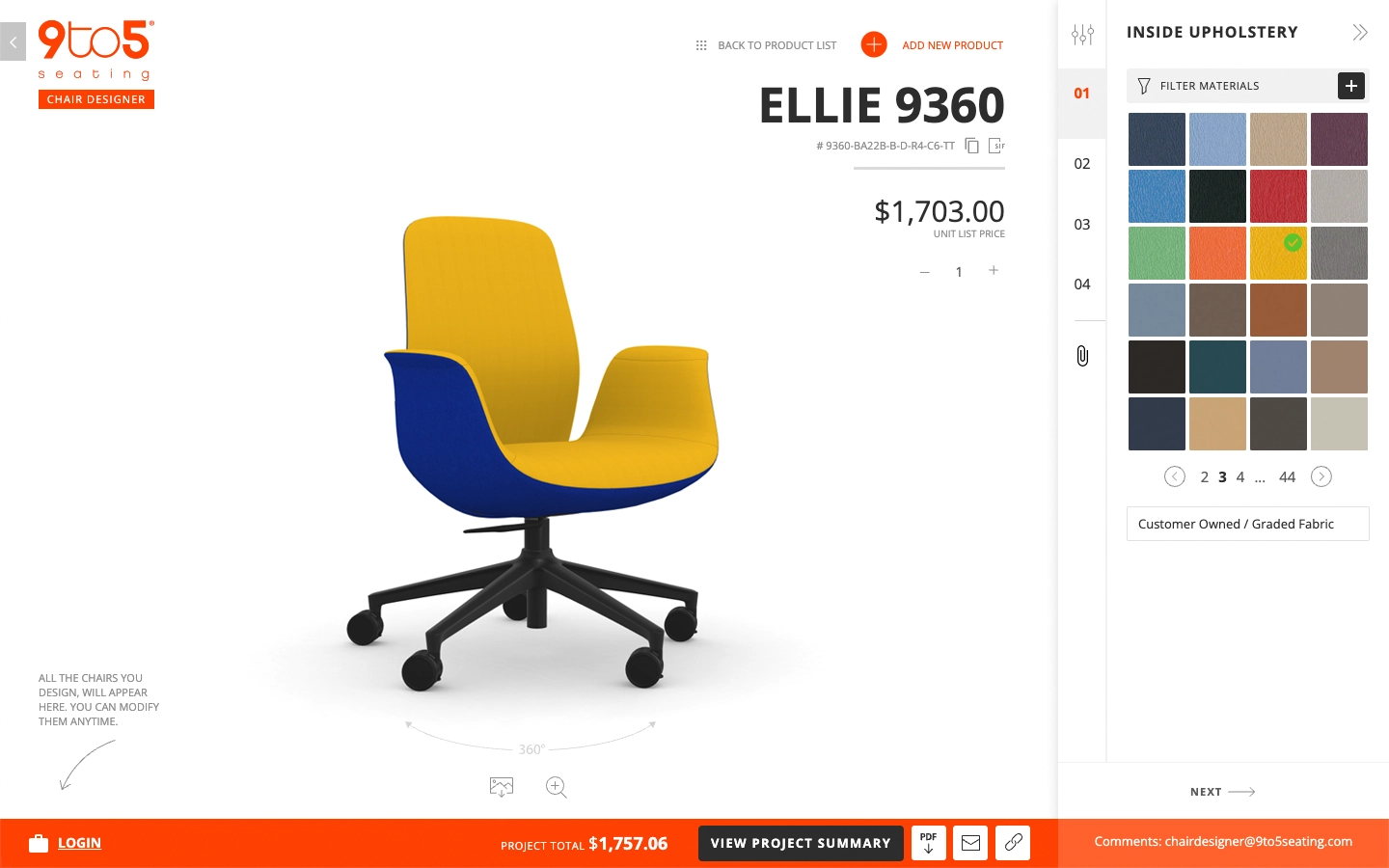 According to BCG's research, highly personalized shopping experiences have a significant impact on customer behavior. Customers are 110% more likely to add additional items to their baskets, and are 40% more likely to spend more than their original planned amount.
This realistic product presentation is a game changer for the sales representatives as previously you could only order chairs from catalog, choosing the different specifications, but not being able to see how the product will actually look prior to production. And that is still the case for many other furniture manufacturers up to this day. That results in a longer and more difficult sales process, as well as bigger customer doubts right until the real product delivery.
In case a specific chair model would not be customizable, it is still presented in 3D with the 360 quick preview option allowing customers to see it from different angles and decide if it fits their preferences.
How to create a 3D shopping experience?
3D shopping experience starts at having a 3D product catalog. Here are the steps to take to create one for your online business:
Choose a 3D modeling software to create your product models. Some popular options include Blender, ZBrush, and Autodesk Maya.

Create 3D models of all your products. You can either create them yourself or hire a professional 3D modeling service.

Optimize those 3D models: It's important to optimize your 3D models so that they load quickly and smoothly on your e-shop. That will depend on the complexity of the models, so no matter if you decide to do it by yourself or place an order from a designer, make sure the models are good quality.

Integrate the 3D product catalog into your e-shop: This can be done by embedding the 3D models directly into your product pages or as images.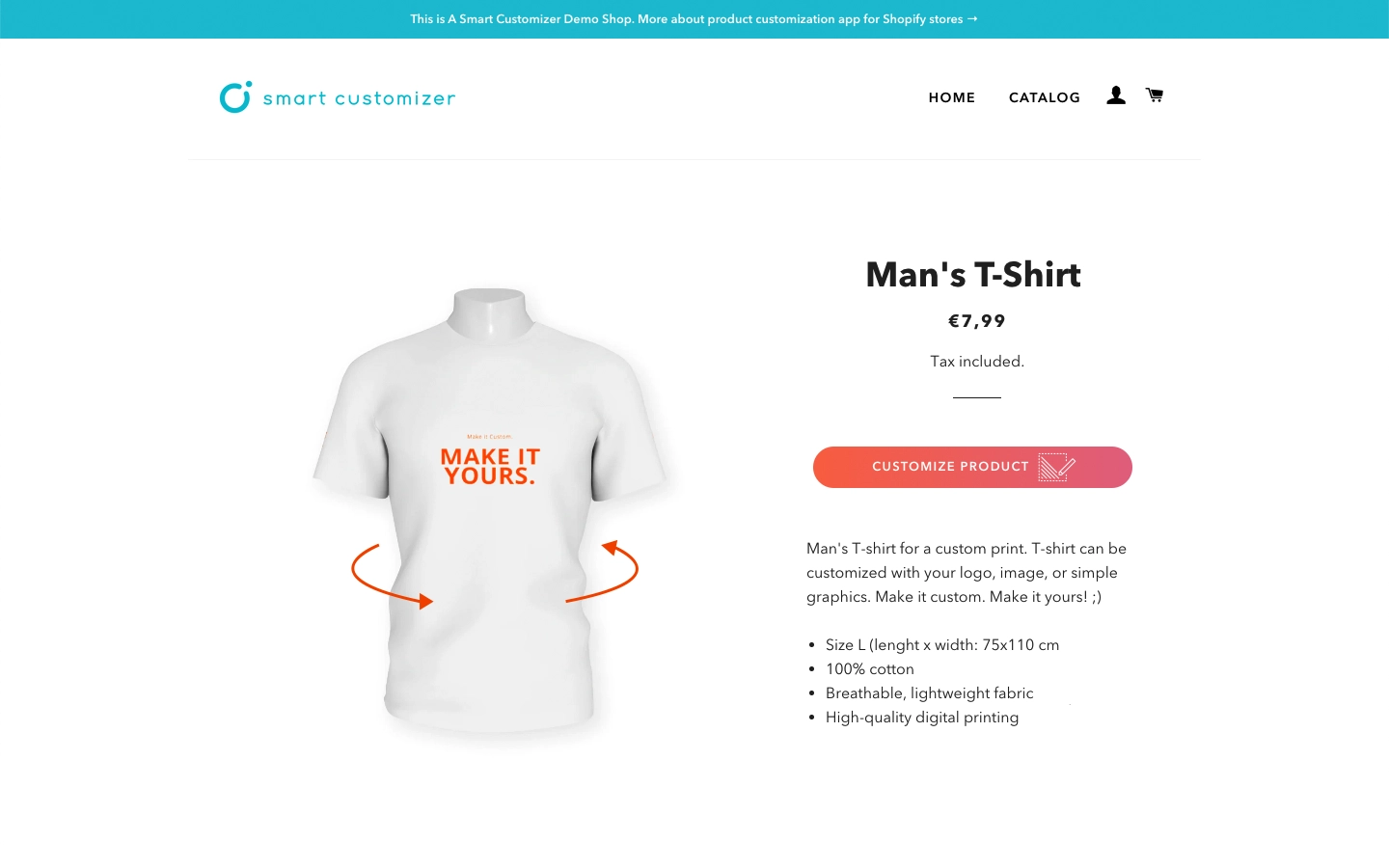 After completing these steps you will have a good base for 3D shopping experience on your online store.
3D product visualization
Let's get into more detail about what is a good 3D product visualization, because to create a 3D shopping experience, you need to be able to separate the good from the bad.
So what is a high quality 3D product model?
Firstly, it should be accurate. The model/image should accurately represent the product, including its shape, size, and details.

High resolution. It will ensure good visibility and accuracy of all product details. However, this is highly related to model optimization. Some technical models include too many details that are not relevant to portray the exterior of the product, but increase the model size and hurt the load times of their display. So good 3D models are cleaned from all the unnecessary details, taking into account the right file size and loading speed.

Lightning. This one may sound strange if you don't know much about 3D modeling, but each 3D model has a scene with lighting. Proper lighting can greatly enhance the visual appeal or the product and make it look more realistic.

Lastly, similar to lighting, a realistic scene (if used) should have accurate shadows, reflections and highlights where needed, which brings out the true look of product materials and fabrics used. Note that having a scene is not a must in 3D commerce. Actually, the best presentation for most product models is to simply have them in a white background. However for large objects - such as furniture or curtains - scenes help to show the scale much better. If you want to have a 3D product presentation with a realistic scene, we recommend trying augmented reality viewers, that allow customers to view products in their home environment, without the need for you to create custom scenes for all your products.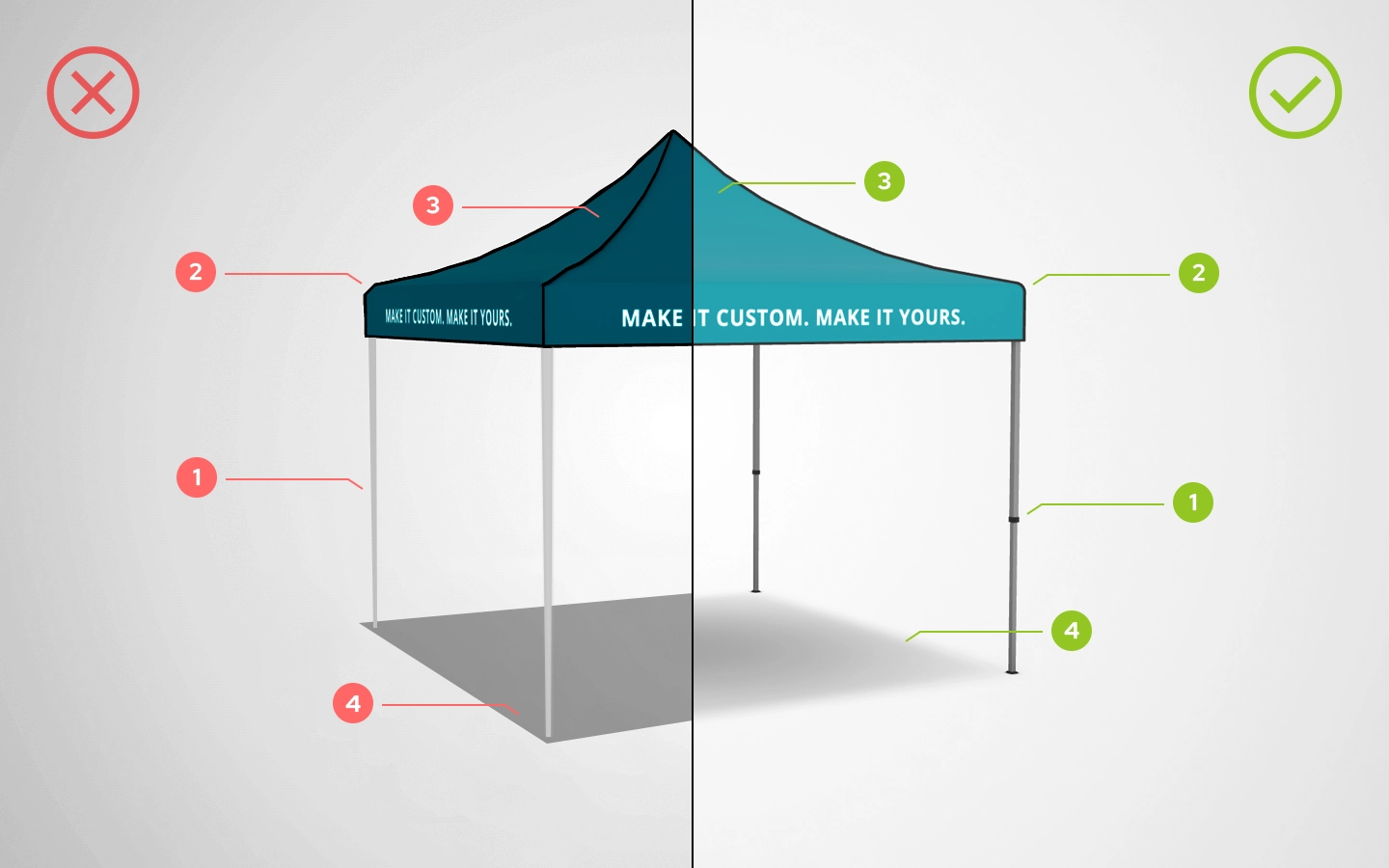 No one could disagree that 3D commerce is not going to bring good results if the 3D product images are blurry or unrealistic.
The main goal of it is to help customers make informed decisions related to the product, so it has to effectively communicate the product's unique characteristics and specifications, such as its size, shape, color, texture, and material. So be mindful if your 3D visualizations do that.
The challenges of 3D visualization
Even though many believe that 3D shopping is the future of e-commerce, its functionality has some drawbacks that you need to consider when implementing it for your online store.
No matter how well-prepared your 3D model is, it cannot visualize ALL the details of the product. If you'd want to include all the details, the size of your high-resolution file would be enormous, taking ages to load on your shop. Therefore, it's always beneficial to still include high-quality photos in your shop with important details you want to showcase.

Page load speed is a significant concern. As mentioned earlier, 3D model file size can be massive and negatively impact your customers' page experience by making them wait for the visualization to load, so keep this in mind at all times when implementing it for your shop.

Some 3D models and their details might also highlight certain drawbacks of your product. So sometimes it makes sense to limit the rotation angles and allowed levels of zoom.

The costs of preparing 3D models for complex products. For such products photography might be a better solution as the price might differ by a few times even! Then 3D photography might be a good middle ground. You initiate a shooting sequence of the product from different angles and when viewed together, these photographs create a 3D image that appears to pop out of the screen. It's important to note that this method will not work for customizable products.

Lastly, unprofessional 3D models and unrealistic product visualization often results in losing clients as they don't build trust throughout the customer journey. Quite the opposite, unappealing visualization raises doubt in how the final product will look, making the customer go looking for alternatives to your brand.
The future of 3D shopping - 3D commerce
If we try to take a step further and think about the more advanced 3d shopping experience such terms as augmented and virtual reality come in. Even though it is more complicated to implement, it can enhance the online UX even more.
Augmented reality, in particular, has been gaining popularity in the furniture and interior design industry. With this technology, customers can view 3D product models in their own home environment through the camera on their smart devices (such as a tablet or mobile phone).
For example, a customer could see how a couch would look in their living room by opening the augmented reality function in an online shop and incorporating a digital product model into their camera view.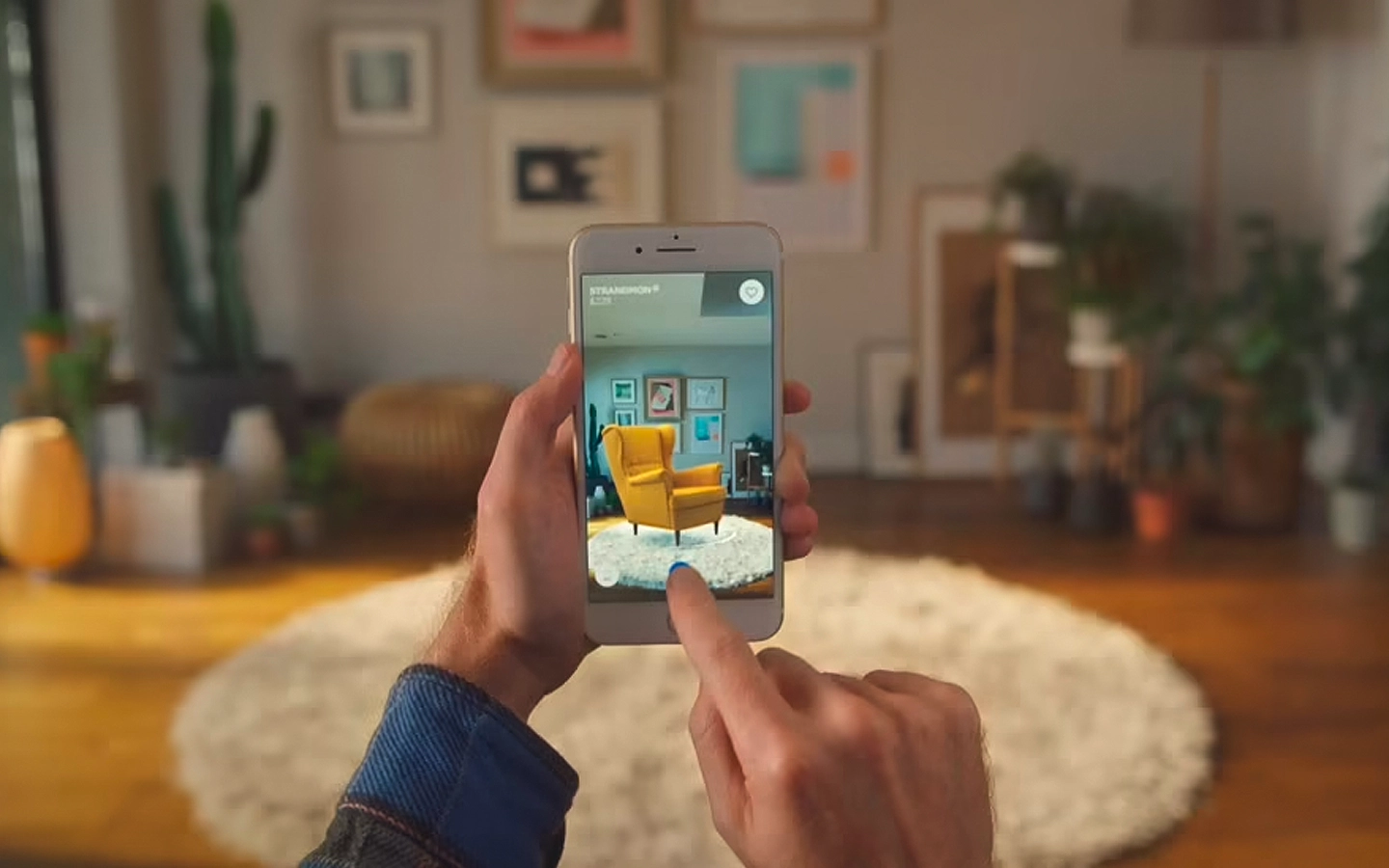 Image Source: IKEA Place App
In addition to augmented reality, we can also expect to see more virtual showrooms and virtual reality experiences in 3D shopping. This involves creating fully immersive shopping experiences that allow customers to explore entire virtual stores or showrooms.
Customers can view and interact with products in a more natural way, with virtual dressing rooms to try out products on themselves, and whole in store looks, allowing brands to go all out on exceptional branding solutions that would be too expensive or even impossible to implement in the real world.
Currently most popular product categories taking advantage of 3D commerce opportunities are:
Furniture and interior decor products
Automotive products
Merch or sports goods
Shoes and fashion accessories
As 3D shopping continues to evolve, we expect to see more advanced features and technologies that will make the shopping experience even more immersive, interactive, and personalized. Maybe it's only a matter of time before we go into fully virtual shopping malls to do our shopping?